Celebrate CA 2020
The previously scheduled CODA December Honor Orchestra experience at Stanford University will not be able to be held due to the current environment. However, students and members alike should be aware that we are already actively working to try to make our visit to Palo Alto a reality in 2021. Certainly, we all look forward to visiting this world class university and enjoying a performance in the beautiful Bing Concert Hall.
In place of this year's December CODA Honor Orchestra experience we are proud to announce Celebrate CA in partnership with the Kaleidoscope Chamber Orchestra.
STUDENTS can register for Celebrate CA here.
Note: Register by November 12th to have access
to live masterclasses with KCO musicians!
Celebrate CA
Fall 2020 
Matthew Mulvaney, California Orchestra Directors Association
Benjamin Mitchell, Kaleidoscope Chamber Orchestra
In a year defined largely by our distance from one another, educators, students, and arts organizations must seek creative ways to foster meaningful relationships, promote dialogue, and facilitate experiences with one another. With these objectives in mind, the California Orchestra Directors Association (CODA) and the Kaleidoscope Chamber Orchestra (KCO) have partnered together for the 2020-21 school year in order to bring Celebrate CA to our educators, students, and communities.
Celebrate CA is a collaborative initiative created to connect students with accomplished musicians and composers. Throughout the fall and into the early winter, students and educators will have access to music education resources that can be used in your current learning environments.
Additionally, this process will help serve to further Kaleidoscope's vision of a world where the:
"… commitment to the collaborative artistic process results in profound orchestral performances that inspire people to pursue cooperation and artistry in their own creative, professional and personal lives."
The Celebrate CA partnership will serve students, school orchestra programs, and educators across the state by providing a variety of resources, which are noted below.
Music
KCO and CODA will work collaboratively to provide for students and educators four new compositions (two for String Orchestra, Level 1 – 3 and two for Symphonic Strings, Level 4 – 6). Scores, PDF parts (with annotations by KCO members), guide individual tracks, and a sample composite recording — recorded by Kaleidoscope musicians — will be available to all active CODA members.
It should be noted that these compositions are designed to be accessible to a broad range of students, with the result being an inclusive musical environment that encourages participation from musicians across the state.
Students and educators alike will have open access to these materials, helping make these works and the affiliated supplemental resources broadly accessible. This content may be utilized extensively in your classroom or may simply be provided to students as a means of furthering their own development through optional learning opportunities.
Masterclasses
Participating Celebrate CA students will also have the opportunity to take part in masterclasses with KCO musicians. Affiliated musicians will hold a series of one-hour masterclasses later this fall for violinists, violists, cellists, and bassists, on each featured Celebrate CA composition, reviewing not only affiliated parts, but also technical and musical considerations that may be applied outside the Celebrate CA context.
The musician-led masterclasses for each ensemble will take place on November 14th and 21st. An opportunity for students and CODA members to meet the composers will be scheduled for early December.
Composers
Organizations, like educators and students, can often be identified by certain characteristics or structural traits. Kaleidoscope has been a leader in promoting new compositions, as is demonstrated by their extensive list of works programmed, which include not only pieces that are timeless, but also a significant number of works by living composers, including women and individuals who are Black, Indigenous, and People of Color (BIPOC).
Given the focus on living composers, participating students and educators will have the opportunity to meet with the composers of the featured works to discuss their music and what it is like to be a composer.
Partners in composition for Celebrate CA include Adam Schoenberg, Niall Taro Ferguson, Viet Cuong, and Chiayu Hsu. Symphonic Strings participants will be performing works by Adam Schoenberg and Niall Taro Ferguson, while participating String Orchestra musicians will be performing works by Viet Cuong and Chiayu Hsu.
We are very fortunate to have these composers joining us for the Celebrate CA initiative. Please do visit the website of each composer to read more about these wonderful individuals.
Composers Viet Cuong, Chiayu Hsu, Niall Taro Ferguson, and Adam Schoenberg
The four Celebrate CA compositions are noted below: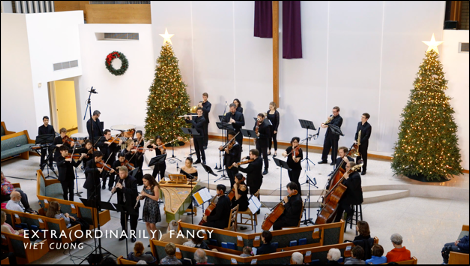 Kaleidoscope performs Extra(ordinarily) Fancy – Concerto for Two Oboes, by Viet Cuong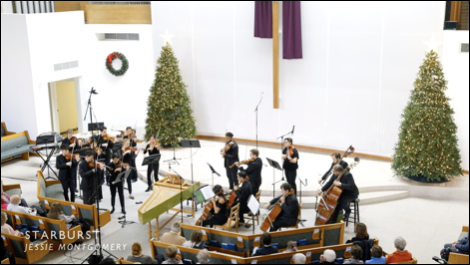 Kaleidoscope performs Starburst, by Jessie Montgomery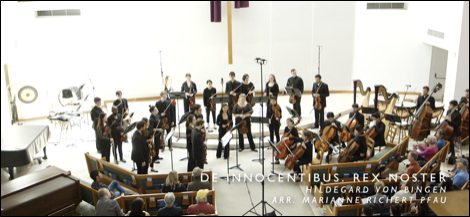 Kaleidoscope performs De Innocentibus Rex Noster, by Hildegard von Bingen, arr. Marianne Richert Pfau
Ensembles
While the Celebrate CA experience is designed to be much more than a performance opportunity, this aspect is also included and can serve as a strong motivator for students.
Celebrate CA will present two ensembles — a String Orchestra (Level 1 – 3) and Symphonic Strings (Level 4 – 6). The end product will be premiered in a CODA sponsored session at the 2021 California All-State Music Education Conference (CASMEC), which will be held digitally on February 19-20, 2021.
An Invitation
Educators and arts organizations alike are currently seeking new and innovative ways to engage students and communities. It is certainly the hope of the California Orchestra Directors Association, the Kaleidoscope Chamber Orchestra, and the affiliated composers that this Celebrate CA initiative provide both you and your students not only tangible resources, but also new lines of inquiry that help us Create, Connect, Respond, and Perform this academic year.
Additional Resources
Register for Celebrate CA (Students)
California Orchestra Directors Association (Membership)
California Orchestra Directors Association (Celebrate CA)
Kaleidoscope Chamber Orchestra
California Arts Standards